ES104: Potential First-in-Class Anti-VEGFxDLL4 Bispecific Antibody in China
ES104 is a bispecific antibody that simultaneously blocks Delta-like ligand 4/Notch (DLL4) and vascular endothelial growth factor A (VEGF-A) signaling pathways, which are critical to angiogenesis and tumor vascularization. VEGF also plays an important role in creating an immune suppressive TME.
Pre-clinical and early clinical data of ES104 show that blocking both pathways provides robust anti-tumor activity across several solid tumors, including colorectal, gastric, cholangiocarcinoma, pancreatic, and non-small cell lung cancer. Partial responses to ES104 as a monotherapy have been observed in heavily pre-treated cancer patients, who were resistant to currently approved anti-VEGF therapies. Positive interim ES104 Phase 2 data in combination with paclitaxel in patients with biliary tract cancers (BTC) was also reported in May 2022.
ES104 has completed a Phase 1 monotherapy dose-escalation and expansion study (NCT03292783). Phase 1b and Phase 2 clinical studies (NCT04492033) in combination with chemotherapy are ongoing.
In China, Elpiscience licensed ES104 greater China rights from Compass Therapeutics in January 2021 and is currently under Phase 1/2 study (NCT05167448) for the treatment of unresectable locally advanced or metastatic colorectal cancer (CRC). ES104 is currently the only clinical-stage bispecific antibody targeting VEGF and DLL4 in China.
Mechanism of Action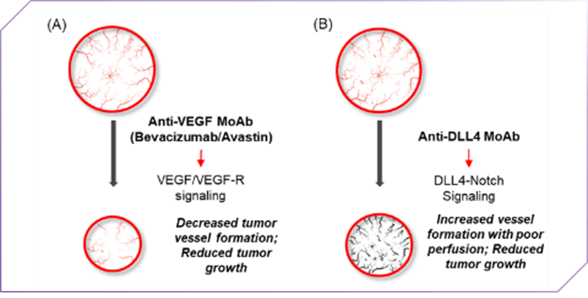 DLL4 expression is a negative prognostic factor in various cancer types

Dual blockade of VEGF and DLL4 to overcome multi-VEGF resistance
Key Differentiation
Next-generation anti-angiogenic therapy to overcome VEGF-resistance

Unique bsAb structure & DLL4 binding epitope for better target engagement

Only anti-VEGFxDLL4 bsAb designed to provide equivalent VEGF-A blockade as Avastin
Publications
ES104 has showed robust anti-tumor activity in preclinical study, and partial responses to ES104 as a monotherapy have been observed in heavily pre-treated cancer patients, who were resistant to currently approved anti-VEGF therapies. AACR 2021
AACR 2021 abstract poster download
AACR 2021 full report download