ES002: Clinical-Stage Anti-CD39 Antibody with Best-in-Class Potential
ES002's dual ATP-adenosine mechanism is a potentially powerful TME regulator and transformative cancer immunotherapy. In preclinical studies ES002 demonstrated significant single agent anti-tumor activity as well as an excellent tolerability profile. ES002 has also shown superior enzymatic inhibition and binding affinity.
The ecto-ATPase CD39 is the rate-limiting enzyme in the ATP-adenosine pathway that plays an important immune regulatory role. The dual ES002 mechanism is designed to reverse immunosuppression by maintaining high levels of immune-stimulatory extracellular ATP while reducing suppressive adenosine. Blocking CD39 is expected to have a strong effect on the inhibition of Treg function, enhancing the killing function of effector T cells.
An ES002 monotherapy Phase 1 clinical study started in the US in January 2022 and IND clearance from CDE was received in February 2022.
CD39 Dual ATP-Adenosine Mechanism of Action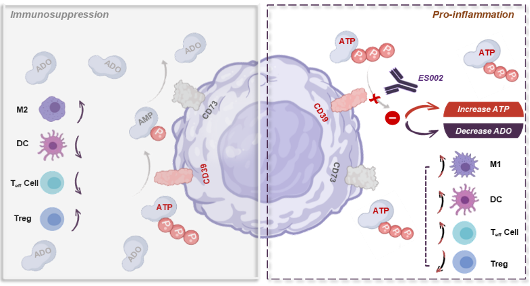 CD39 is pivotal in the conversion of extracellular ATP into AMP, which is then converted downstream by CD73 into immunosuppressive adenosine

CD39 blockade is expected to maintain extracellular ATP, a key TME inflammatory signal stimulating the immune response

Blocking CD39 is expected to have a strong effect on the inhibition of Treg function, enhancing the killing function of effector T cells
Key Differentiation
Differentiated dual ATP-adenosine mechanism of action versus targeting CD73

Demonstrated high binding affinity and enzymatic inhibition

Significant in vivo single agent anti-tumor activity and excellent GLP tolerability profile
In vitro and In vivo Properties
In vitro:
High binding affinity against human and cyno CD39

Strong enzyme inhibition effect

Efficient reversal of immunosuppression by adenosine mediated inhibition

Promotes IL-18 and IL-1β secretion (anti-CD73 antibodies have not shown this effect)

Promotes monocyte maturation and activation

Promotes NK cell activation
In vivo:
Anti-tumor activity in PBMC humanized mice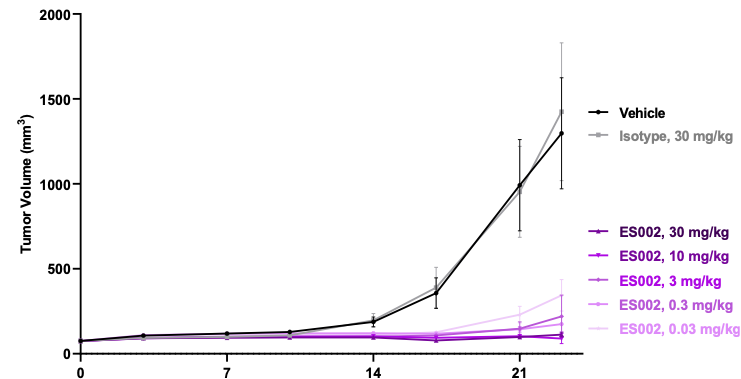 Statistically significant reduction in tumor volume observed in all groups treated with ES002 with a dose as low as 0.03mg/kg
Publications
The anti-tumor activity of an anti-CD39 antibody (ES002) in a multiple myeloma xenograft model is dependent on NK cells and myeloid cells. SITC 2021, P790